15 - 20 FEB 2022 |
Changi Exhibition Centre, Singapore
Home
> The Show > Singapore Airshow Mascots
Singapore Airshow Mascots
CAPTAIN LEO & CAPTAIN LEONETTE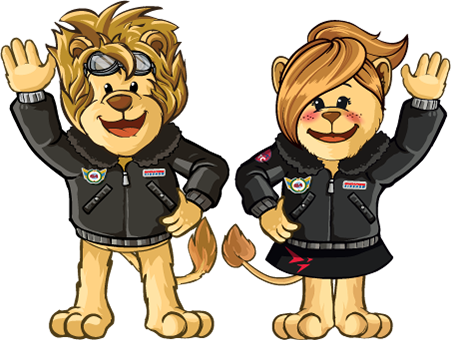 From the time they were the smallest cubs in the pack, Leo and Leonette were the best of friends and went everywhere together. Their parents knew that wherever they found one, the other would be very close by.
Even when they went to Lion School, they were never far apart. Although they were very close, they also had quite different ways of looking at things.
Every day after school they would lay on the grass, staring up at the sky.
"Look at the birds flying in formation!" Leo would say. "It's so cool! I want to be able to do that!"
Leonette would look and wonder how the birds knew where they were going.




And when they saw an eagle hunting, Leo would be so excited by the speed, and power and precision of the beautiful bird as it dropped from a great height to catch its prey.




Leonette, on the other hand, would wonder how the eagle was able to see its tiny prey from so high in the air. For her, that was even more impressive than the eagle's speed and power.
The day finally came when Leo decided he didn't want to sit there and look up at the sky, he wanted to soar high above the clouds just like the birds.




"Do you think it's silly, Leonette," he asked her anxiously, "that a lion would want to learn how to fly?"




"Of course not!" Leonette said. "I think it's wonderful! In fact, I think we should go to flying school and learn how planes fly and how they can move so fast and see so far and know what's happening when they can't see it and…"
"Okay! Okay!" Leo laughed. "I can see you're so excited! Let's go to flying school today!"




And that's exactly what they did.




In no time at all, Leo becomes a professional pilot leading his very own squadron of elite pilots while Leonette becomes an expert air traffic controller who also works in aerospace research.




Together they have the perfect partnership.
The embodiment of adventure, courage, and loyalty, Captain Leo thrills children everywhere with his flying skills and unyielding attitude towards life's challenges.




The inquisitive, resourceful and kind Captain Leonette, on the other hand, inspires children to find out more about the science of flying.
Captain Leo and Captain Leonette look forward to seeing you again at Singapore Airshow 2020!